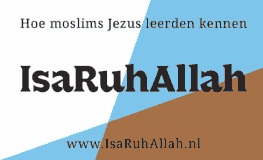 Christengemeente Elim Reeuwijk/Gouda wil graag iets betekenen voor moslims! Philip van der Eijk bezoekt al jaren een Marokkaans theehuis en heeft een hart voor deze mensen. Voor moslims die vragen hebben over het christelijke geloof of die meer willen weten of lezen over Isa / Jezus in de Bijbel /de Indjil zijn er Bijbels en dvd's beschikbaar In elke taal over het leven van Jezus .
Voor vragen of informatie of contact, kun je mailen naar philipvandereijk@yahoo.com
Daarnaast is er ook een boeiende, landelijke website genaamd www.IsaRuhAllah.nl, waar vragen van moslims worden beantwoord en waar je ook de verhalen kunt lezen van moslims, die een ontmoeting hebben gehad met Jezus/Isa.